Marketing Manager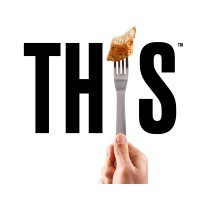 THIS
Marketing & Communications
Remote
Posted on Wednesday, October 4, 2023
Marketing
·
THIS Office
·
Hybrid Remote
Marketing Manager
Marketing Manager
What is THIS?
THIS is a high-growth, VC-backed emerging leader in producing plant-based food. Meat-alternatives, to be exact. In fact if we're being reallllly exact – our products are at the leading-edge of the plant-based sector in terms of taste, texture and appearance. Here's our insta, for a quick stalk - https://www.instagram.com/this.uk
It's worth mentioning that since our launch in June 2019, the company has experienced extremely significant growth in revenue – 188% in the last year. We have strong aspirations to continue this growth trajectory as we aim to be the no.1 plant based brand in the UK and beyond and we believe we have the team (50 plus and growing) and investment to do achieve this.
Why are we doing THIS?
We're Andy and Pete - co-founders of THIS. Our last job entailed selling tonnes (literally tonnes) of meat. Then we felt bad. Also, we felt like meat-alternatives weren't realllllly for people who love the taste of meat. We felt like they were for people who like sandals and socks. So we've basically ended up making THIS for ourselves, but we'd love other meat-lovers to nom nom it too. THIS is a game-changer.
At our core, we believe:

Stereotypes around plant-based food need to be bulldozed
Guilt-trips don't make people hungry
Plant-based food should mean zero-compromise - this is how we can recruit more meat reducers to the category
What's with this role?
We're looking for a fantastically talented Marketing Manager, to help plan and manage our marketing activities. You will report directly to the Marketing Director, and will also have direct collaborative relationships with our sales & innovation teams as well as various marketing agencies. This role is about developing and executing strategic and tactical marketing plans that drive brand awareness, and penetration, whilst always keeping the credibility of the brand top of mind. Knowledge of communications is a must, and you should have a deep passion for building a strong brand.
What will you be getting up to?
Help plan and execute the consumer marketing plans for the brand to deliver against the marketing strategy and in line with company objectives. This includes end to end campaign project management across multiple activation channels, including digital paid media (ensuring all activity is delivered on time and on budget) and shopper marketing..
Planning and execution of all shopper marketing across all retail channels as well as tradeshows.
Developing and executing the brand's social media strategy – paid and organic.
Planning, developing and implementing the brands sampling strategy.
Briefing and managing of all packaging changes (and new product packaging), including planning and execution of photography as well as final artwork proofing.
Develop and agree measurable KPI's for all marketing activity. Measure and report performance of all marketing campaigns, and assess against ROI and KPIs.
Develop and manage digital partnerships with like-minded brands – that are not only complimentary but also far reaching.
Manage specialist marketing services agencies (including Digital) and other outsourced marketing supplier resource.
Maintain effective internal communications to engage the company around marketing activities. Ensure that all relevant company functions and stakeholders are informed of marketing objectives.
Act as brand guardian ensuring our brand identity and tone of voice is consistent and on brand at all times.
Ensure a keen awareness of competitor activity, reporting any major activity to the wider team when relevant.
Line management and development of content executive
Hello… Is it you we're looking for...
Must have a broad Marketing background, and experience of experiential disruptive marketing preferable.
Proven track record in marketing management and degree educated ideal.
Digital media (including Paid Social) planning experience essential.
Line management and experience managing budgets preferable.
Enthusiastic and dynamic yet collaborative team player with a high degree of integrity and personal responsibility.
Ability to influence and negotiate across all levels internally and externally.
Strong organisational skills with the ability to handle multiple tasks and to prioritize successfully. You will have multiple responsibilities to manage at any one time, so personal time management, prioritization and diligence are key.
Ability to react positively to rapidly evolving brand requirements.
Personal drive, tenacity and energy whilst also being results oriented with strong analytic skills and business sense.
Proven experience of and ability to perform as part of a small entrepreneurial team – you must be ready to roll your sleeves up and be hands on.
Strong presentation skills (Power Point wizard) and confident presenting in front of audiences.
Strong communication skills with the ability to converse at Director/MD level.
Positive attitude, proactivity and a tenacious character: things in our business can change very quickly, so being comfortable reacting quickly to unexpected opportunities and challenges is super important too!
Ability and interest to work cross-functionally, we're a small team and believe that strong collaboration will take us further than working in silos
Honesty & integrity - a conviction in your work to improve your small patch of the world for yourself and for others
We don't take ourselves seriously and we laugh at the most silly, stupid things… So you don't need to be a stand-up comedian but having a sense of humour is defo necessary.
Team player: we're colleagues but also mates (unless we're playing table tennis)
Other stuff
As a fast growing business, everyone who joins us needs to be ready to roll up their sleeves and carry out tasks away from their core focus because - they just need to get done. That could be helping to prepare samples for a customer meeting, trying new products and giving tasting notes, packing cold bags into boxes or a lot of other random stuff that comes up. They're not always the most glamorous jobs, but from the founders down, the whole team gets involved!
From our side
A competitive salary that fairly recognises your experience and potential.
We are offering share-options in our company to everyone who joins us at this early stage
25 days paid holiday plus bank-holidays – we care about our team's wellbeing, so we make sure you have time to fully switch off, rest, and recharge.
Flexible working hours – We're not a 9-5. No-one will tap their watch if you prefer to start late and finish late because you like to go to the gym before work. Our focus is on your ability to deliver for the business, not your ability to keep strict working hours.
You'll have a £500 wellness allowance every year (pro-rata) to spend on things that will improve your physical and mental wellness like gym memberships, fitness classes, counselling, dentistry, physio, meditation apps and more.
To further support mental health, the company pays for Spill, a mental health wellness provider that gives everyone access to qualified therapists and mental health resources.
A values-led working environment that encourages putting people first, honesty, curiosity and leadership.
The chance to have a meaningful impact
As a relatively small, albeit growing, team you'll be exposed to - and have the chance to contribute towards - challenges and projects at all levels and in all areas of the business. A good idea is a good idea, regardless of the experience or seniority of who came up with it.
We'd love to hear from you, so feel free to apply with your CV and cover letter and we'll get back to you as soon as we can!
Department

Marketing

Locations

THIS Office

Remote status

Hybrid Remote
Marketing
·
THIS Office
·
Hybrid Remote
Marketing Manager
Loading application form
Already working at THIS?
Let's recruit together and find your next colleague.